Ronato Alcano - 9 ball Pool Player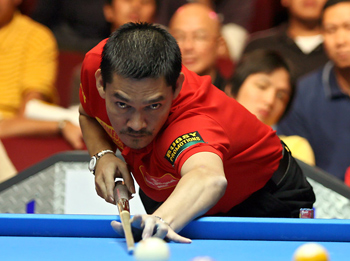 Ronato Alcano was born in Calamba, Laguna, Philippines on the 29th of July 1972 and is frequently known by the nickname: Calamba. He really first gained recognition as a top pool player in the Philippines in the year 2000 Rising Stars Tournament when although he was highly tipped to win the title, he lost out to Edgar Acabo 13 -7 in the final despite having been five racks ahead at one point. He began to be known more internationally around 2002 when he began competing in major US events winning five tournaments in the Joss tour and in the process being named Rookie of the Year for 2002. In 2005 Alcano played in the WPA Asian 9 ball tour and managed to win the Manila tournament 11-6 gaining him automatic qualification for the world championships.
At the 2006 WPA Men's World 9 ball Championships, held in the Philippines, Alcano surprised everyone by becoming the winner defeating Ralf Souquet by 17-11 in the final. Worthy of note are ESPN commentator Gerry Forsyth's comments at the time "the only way to stop Alcano is to put a rattlesnake in his pocket, then ask him for a match!". What is most surprising about Alcano being crowned world champion is a fact that he had been very nearly eliminated in the group play stages only just scraping through as the 64th and final seed. At any rate he managed to pick up the largest ever 9 ball pool first prize of $100,000.
In 2007 Alcano came out on top in the WTA world eightball championships when he was victorious over his compatriot Dennis Orcollo.in September 2007, Alcano finished 2nd to Antonio Gabica in the Philippine Nine-ball Open.